←Return to filtered list
Campus Ministry Today and The Great Commission
Matthew 28:18-20 "And Jesus came and said to them, "All authority in heaven and on earth has been given to me. Go therefore and make disciples of all nations, baptizing them in the name of the Father and of the Son and of the Holy Spirit, teaching them to observe all that I have commanded you. And behold, I am with you always, to the end of the age."
As I sat across from a young missionary, I realized the history we shared was a clear example of the "EDM" of The Great Commission. I led the young man to Christ during his freshman year (Evangelism). I taught him the basics of the Christian life for several years (Disciple-Making). And two years ago, I helped him get to China (Mission Mobilization).
EDM AND THE GREAT COMMISSION
The Gospel — the story of Jesus' perfect life, substitutionary death & powerful resurrection — is the primary message & unashamed focus of EDM. Through EDM, we explain the gospel (E), examine the gospel (D), and export the gospel (M). The goal of EDM is to bring glory to Christ, and it is God's ordained method for world evangelization.
EDM is the cycle of the Great Commission. The command to, "Go make disciples of all nations," begins with evangelism, continues with disciple-making and ends with mission mobilization only to begin again with more evangelism.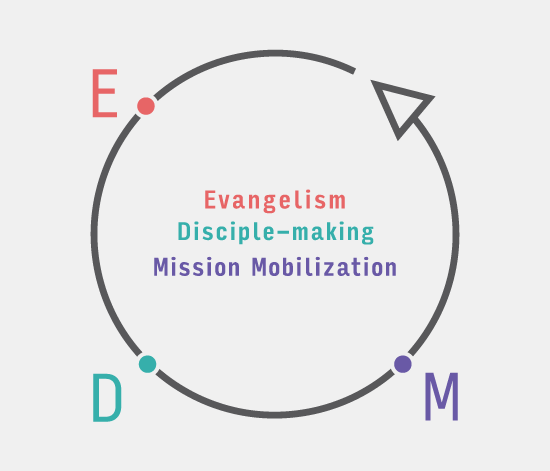 When Jesus left his disciples at the end of the book of Matthew, there was no confusion about what their mission was. In His last words while on earth, Jesus, our crucified and now resurrected King, stood in power before his disciples, commanding them to, "Go make disciples of all nations…"
As the disciples waited on the promised and soon-coming Holy Spirit, they prayed together and considered the final words of their Messiah. Once the Holy Spirit fell upon them and filled them, there was no hesitation. As they were instructed, they set out to do the work Jesus called them to.
In his classic work The Master Plan of Evangelism, Robert E. Coleman, says,
Clearly Jesus did not leave the work of evangelism subject to human impression or convenience. To his disciples it was a definite command, perceived by impulse at the beginning of their discipleship, but progressively clarified in their thinking as they followed him, and finally spelled out in no uncertain terms. No one who followed Jesus very far could escape this conclusion. It was so then; it is so today.
The Great Commission was not a vague ideal. It wasn't an option to be considered but a command Christ left His disciples before ascending into heaven. Obedience to this command is not an accessory to add onto your life during short term mission trips, but a privilege to enjoy every day of your life.
Obedience to the Great Commission isn't an accessory to life during special trips; it's a privilege to enjoy every day.
CAMPUS MINISTRY AND THE GREAT COMMISSION
Campus Ministry Today (CMT) believes many ministries, and Christianity as a whole, have been distracted from our ultimate purpose to go into all nations and preach the Good News. College ministry originally developed with an EDM focus due to the influence of people such as evangelist Dawson Trotman, Campus Crusade for Christ founder Bill Bright and other evangelical voices, as well as organizations like the Student Volunteer Movement. In recent years, however, it is our observation that college ministries have become far more cause-oriented than focused on the Great Commission. While many of these causes are great and even close to the heart of God, we cannot allow them to overshadow the call Christ gave directly to His disciples.
Let's see how Evangelism, Disciple-making, and Missions Mobilization look on the college campus.
Evangelism: Leading People to Christ
When Jesus commanded His disciples to make disciples, they didn't have young Christians to gather up to begin discipling. As the original witnesses to Christ's words, the disciples understood, as is evidenced in the book of Acts, "make disciples" must begin with evangelism.
What does this mean for campus ministry? Should we be passive and wait to see who is interested? Or should we pursue the lost and introduce them to Jesus?
Sadly, it seems as if evangelism has fallen by the wayside in college ministries. Instead of waiting for students to come to us, we should be going to where the students are in the cafeteria, residence halls, and fraternity and sorority houses.
The lack of evangelism may be caused by fear, busy-ness or a blatant disagreement with the importance of evangelism. Something must change. Coleman says,
Evangelism is not an optional accessory to our life. It is the heartbeat of all that we are called to be and do. It is the commission of the church which gives meaning to all else that is undertaken in the name of Christ.
Here at CMT, we want to promote the unashamed, courageous pursuit of those who do not know Christ. If we aren't being active in evangelism, what are we doing?
Disciple-making: Building People in Christ
Just as some may neglect evangelism, there are some who over-emphasize it and consider the number of professions as evidence for success. Although evangelism for Christ is a vital aspect of your ministry, that isn't where your ministry stops. In addition to counting the number of converts, what if we also started measuring the maturity of those who have made professions?
Similar to newborn babies, newly born-again Christians need care and guidance from spiritual parents to help adjust to this new world. After you introduce someone to Christ, you begin the initial stages of helping him or her be established in their new relationship with God. We must take the lead in helping shape their values and convictions as Christ followers.
The goal of our disciple-making should be to help our disciples understand our relationship with God (vertical relationship) and our relationships with one another (horizontal relationship).
We guide our disciples in developing a vertical relationship with God regarding:
God's character and attributes–Who is God?
Their identity in Christ and personal holiness–Who does God say I am?
Instruction in prayer and reading the Word of God–How do I cultivate my relationship with God?
Second, we help them understand how to make God known to others through:
Evangelism–How do I interact with my non-Christian friends?
Fellowship–How do I interact with my Christian friends?
World vision–What do we do about those around the world who don't know Christ?
Through strong discipleship, I have seen lost hellions develop into mature Christ-followers. Even students who grew up in youth group transform from self-centered kids to mature disciple-makers themselves. Building people in Christ must be a priority in your campus ministry.
Mission Mobilization: Sending People to the Nations
College students have been, are and will likely continue to be, the most recruitable, trainable, and deployable group of people on the planet. Although they only represent 1-2% of all of the world's population, they are one of the most strategic resources for world-wide evangelism.
As campus ministers, we are discipling the most sendable people in the history of the world. Instead of watching another class of our students graduate and be let down by pursuit of the American Dream, we should be mobilizing college students to spread the Gospel on a global scale.
Why have college ministries neglected preparing students for mission work? Are we fearful that while we are encouraging our students to missions, we may be led to go? Are we concerned that asking students to live in potential poverty clashes with our own lifestyle of comfort? We can be named among the number who kept our eyes fixed on ourselves, or we can do all in our power to get the Gospel to the nations.
Oh, that we would be like the Moravian missionaries who sold themselves into slavery to reach the lost in the Caribbean! Who, departing, cried out, "May the Lamb that was slain receive the reward of His suffering!"
May we be like William Borden who rid himself of his multimillion dollar inheritance to reach the Kansu Muslims in China! Who, in the back of his Bible wrote, "No reserves, no retreats, no regrets."
May we be like the countless nameless missionaries who lay down their lives in foreign countries for the Kingdom of God. May we, like them, concern ourselves with making Christ known to the lost and dying world!
Plead with the Lord along with me, that He would increase and we would decrease!
Campus Ministry Leader, cultivate God's resources for His purposes. Cast vision for missions. Recruit disciples to go to the lost. Mobilize students to the nations. What if the number of missionaries sent by the Student Volunteer Movement is a drop in a bucket compared to what God does in our era? Let's pray to that end!
CAMPUS MINISTRY TODAY
Here at Campus Ministry Today we want to help you establish Evangelism, Disciple-making, and Missions Mobilization as priority in your ministry. CMT provides resources to reignite campus ministry to emphasize the Great Commission: leading people to Christ (E), building people in Christ (D), and sending them to the nations (M).
As a campus ministry resource, we encourage and equip leadership to bring the Great Commission back to the front and center of campus ministry. We don't believe Evangelism, Disciple-making and Missions Mobilization somehow summarizes all of the themes of the Bible. And we don't want to downplay the great work going on around the world through great ministries. However, we believe bringing the Gospel to the world is priority. And EDM is the vehicle that carries and grows the Gospel in the hearts and lives of college students and, consequently, to the nations.
I'll get asked, "When are you going to get a 'real job' and stop hanging out with college students?" After a polite laugh, I tell them that if they know of a job where I can have more of a global influence for the glory of God, then I'd gladly take it. Until then, I'll keep doing what I'm doing. No other job has more potential eternal impact than what we do.
While I am not in China following the Great Commission, a student I led to Christ, discipled and prepared for his mission is. And that is what The Great Commission is all about: introducing people to Christ, helping them grow in Christ and launching them to take Christ to the nations.
Reflection questions
How are you involved in Evangelism, Disciple-making, and Missions Mobilization to fulfill the Great Commission?
What good causes have the potential to overshadow The Great Commission?
Where are your campus ministry's weaknesses in Evangelism, Disciple-making and Missions Mobilization?Where are you going to find the lost?
How are you helping young Christians mature in both their vertical relationship with God and their horizontal relationships with other people?